Purple Rain
This week's Diva Challenge #54 is entitled "Purple Haze". As much as I like Jimi Hendrix, I have always loved Prince (aka. the artist formerly known as Prince, the unpronounceable symbol known as Love Symbol #2, and many other pseudonyms) so I titled this post "Purple Rain" in his honor. Laura wanted to give us all a chance to play with some color, so she chose the color purple, which symbolizes Moebius Syndrome, an extremely rare neurological disorder, which her youngest son has. Tuesday, January 24th is Moebius Syndrome Awareness Day so show your support of her son and other people who live with this disorder by wearing purple.
I decided to take this opportunity to play with some lokta paper that I had bought awhile ago. Lokta paper is a type of hand-made paper that is made in Nepal. As it turned out, the color of the paper is more of a purple wine based on the Pantone color system. Not only did I love playing with this paper, but I got to use my silver Pentel Slicci pen along with a couple of Sakura gel pens.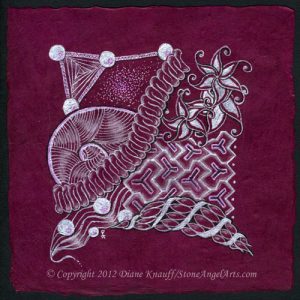 Patterns Used: Paradox, Chemystry, Shattuck, Nipa, Purk, Fengle, Serpentine and Maus
The last two patterns, Serpentine and Maus, are ones that I found in my many journeys through library books that intrigue me and I do not believe that I have seen any breakdown of these designs in the past. Today's post will include the steps to create Serpentine and an upcoming post will contain the steps for Maus (mainly because this pattern is more difficult and I'm still working on the best way to define the steps).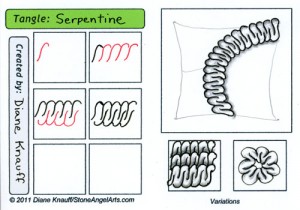 I find the easiest way to draw this pattern is to rotate the tile 180°between step 2 and 3 and repeat the first steps between the original marks. In case your wondering, I named this pattern Serpentine because it reminded me of a snake.