Art Shows and Going Postal
I have been crazy busy for the past month or so getting ready for two art/craft sales. The first one is Craftamongous on Saturday at Shorewood Elementary School and is a fundraiser for their PTO. There have definitely been days where I have felt the pressure of producing and have been a bit crazed. When I heard about the new project by the person who brought us "Human Clock", I decided to take a break from my planned art projects and do something just for fun. The new project is called "Mail Clock" and involves sending a letter or postcard representing a time you select. I had heard about the project from a fellow Certified Zentangle Teacher and knew I wanted to do a zentangle-inspired postcard. One of the key features of zentangles is that it can be oriented in any direction. When I started to plan out my postcard, I realized that the time I selected, 6:29 can be the same right-side up and upside down when written using a digital font. This was such a perfect tie-in to zentangles that I knew I had to incorporate it in the design.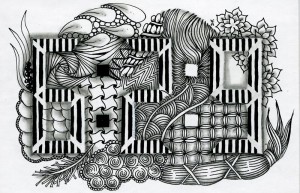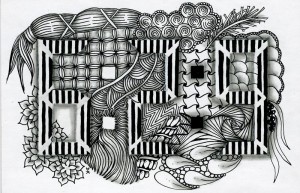 Here is the final piece (shown in both directions) and it "went postal" last Friday.
If you are in the area on Saturday, be sure to stop by Shorewood Elementary. I will be selling framed zentangles, zentangle-inspired jewelry, and fabric baskets as well as the original Zentangle kit. I plan to post a few sneak peeks the work that I will have for sale in the next few days.