Welcoming 2012
I love the start of a new year. I know you can change your life on any given day at any given moment but there is something about making changes with the start of the new year that seems to boost my confidence in making changes. Maybe it is the camaraderie of the world's population making changes at the same time. Yes, I know that not everyone makes New Year Resolutions but there is a certain change that virtually all people make – that is changing the number whenever they write (or digitally enter) the date. This act used to be much more significant than it is today now that  we live in an age where so much of our lives is driven by technology but I guess this is one of those areas in which my age shows.
One of my goals for this year is to share more of my time and talents with others. This is something that I try to do all the time but as my children have gotten older I want to find opportunities outside the realm of soccer, baseball and school. We have developed a tradition of working one of the beverage tents at the Taste of Madison that is held over Labor Day weekend. This year I am hoping to find some additional opportunities to do things as a family because I believe it is best to show the boys the importance of volunteering by giving them examples that involve them.
It is this idea of sharing that is behind the Diva Challenge #52 "give". She asked us to give one of our Zentangles or Zentangle-inspired pieces of art to someone. Twenty years ago I gave my mother-in-law (to be) a dried flower wreath for Christmas. I noticed the last time we visited that she still had this wreath hanging in their dining room. I decided this year I would give her one of my Zentangle-inspired art pieces to her as a replacement. Since I have not mastered the art of photographing framed artwork, below is a scan of the original piece. A vote was taken when the family was together on Christmas day and it was decided that she should hang it on the diagonal (which I preferred, even though I abstained from voting).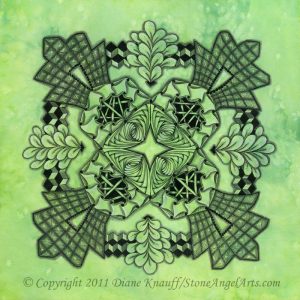 I hope that everyone had a wonderful holiday season and I wish you a calm and creative 2012.