What's in a name
When I teach my classes I always explain that Zentangle has its own language and it is up to the individual to decide how much of these terms they want to remember. There are terms that are specific to the Zentangle creation process, such as tile, string and tangle. But there is also the seemingly endless names of patterns (or tangles, as we in the trade call them). This is where I usually tell my students that I will always tell them the name of the pattern but the real reason for remembering the name is that it makes it easier to talk with other Zentangle enthusiasts when you have a common frame of reference.
As a teacher, I get frustrated by the names of tangles*. I want to use the right names so I can give credit to the person who broke down the pattern into easy to replicate steps but trying to find where a pattern has been "named" is not always easy. There are the "official" patterns that were originally broken down by Zentangle founders, Rick Roberts and Maria Thomas. As a CZT, these patterns were included in our training materials. TanglePatterns.com (a website created by Linda Farmer, CZT) is a great resource for names and samples. Another great resource is the Zentangle Round-up that Genevieve Crabbe, CZT creates weekly on her blog, Tangle Harmony. But what happens when there are two names for similar patterns? That's where the term "tangleation" comes in. Here is the definition of the term by Rick and Maria along with their comments…
tan-gle-ation(tan-gəlā-shən)noun
1.  A noticeable variation of an existing tangle.

This will no doubt inspire lengthy classification discussions around Zentangle dinner tables as to what is a new tangle and what is "just" a tangleation. Nevertheless, we think this will be a useful concept to work with.

One of our reasons for choosing "tangleation" is its similarity to "tessellation." Many of our tangles are tessellations. If you enjoy exploring interesting forms, we encourage you to explore tessellation. You will then understand how to know which of our tangles are tessellations.
I digress…so my dilemma is that I have used a couple of patterns that I haven't seen elsewhere so I don't know if they are named or not. I would rather spend my time making art than contemplating what is used in the art. In my last post, with my Zentangle for Diva's challenge #49, I used a pattern that I didn't have a name for and decided to give it a name and break it down for others to use. I've named it "Pnopsis" because it reminds me of the leaves of my phaelanopsis orchid plant. Here are the steps to the pattern.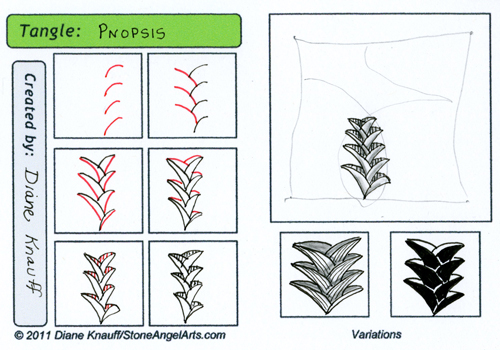 * you will find that I will sometimes use the term "tangle" and sometimes the term "pattern". I do find the word pattern is most comfortable for me to use.