Another trip in the DeLorean
I realized that not everyone may understand my reference to a DeLorean, so I thought I would mention this…it is the car used as a time machine in the movie "Back to the Future" featuring Michael J. Fox. Since I am going back to complete all of the past challenges issued by "the Diva", I will be using this reference off and on over the next five months. Why five months? I figured out that if I keep to the plan that Cathy, of a Tangled Place, and I set out when we decided to team up to keep each other motivated on this quest, we would get caught up the week of April 28th. I'm not sure if knowing that is a good or a bad thing. It seems so far in the future. I guess we will have to wait and see. Until then, here are the two challenges that technically I did last week. I just wasn't very timely in my posting.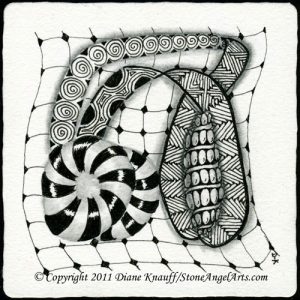 Patterns used: Florz, Pepper, Purk, Crescent Moon, Hibred, Hurry, and Snail.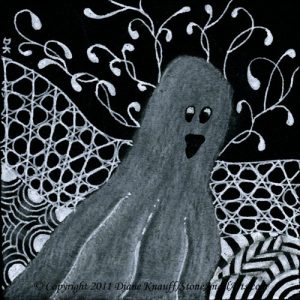 Patterns used: Crescent Moon, Striping, 'Nzeppel, a variation of Opus, and Casper the Friendly ghost.
The zentangle on top is for Challenge #2 which was entitled "Two Pencil String" by guest challenger Margaret Bremner. The zentangle on the black tile is for Challenge #46 entitled "All Hallow's Eve". It does seem a bit strange posting a halloween based zentangle on the 1st of December, but a girl's gotta do what a girl's gotta do. 🙂