Diva Challenge #49
An invisible red thread connects those who are destined to meet regardless of time, place or circumstance.
The thread may stretch or tangle, but it will never break." -Chinese proverb
Anyone who knows me, knows I LOVE quotes and I actually keep a journal of quotes that really "speak to me". I have added this one to my collection. This week's Diva's Challenge is by guest challenger, Cris Letourneau, a CZT from Ohio. Her friend Sonya is VP of an organization called The Red Thread Promise. This organization helps children, both here and abroad, by providing medical treatments and other essentials that we often take for granted. Cris's desire to help inspired this challenge to make a traditional black and white Zentangle with a single red "thread" passing through it. If you would like to help with Cris's "Red Thread" project check out her blog, Tangled Up in Art to help make a difference for the children of the world. Here is my tile that will soon be on its way to join many others for this wonderful cause.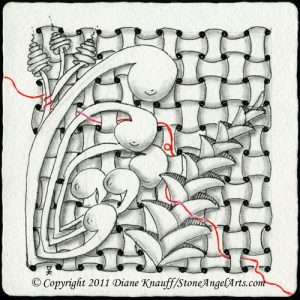 patterns used: mooka, huggins, and a couple of patterns I need to check on…