Last Minute Preparation
Tomorrow is the second art/craft sale, the Holiday Craft Lounge, that I am participating in this month. The Holiday Craft Lounge has been organized by Anthology and is taking place in the lobby of the Overture Center, outside of Overture Hall. This event is part of the Downtown Madison Open House and is also to raise money and collect food for local food pantries. If you get a chance, please stop by. Entry to the event is a $1 donation or a can of food.  The event runs from 10am to 3pm.
I have spent most of today finishing last minute projects and making sure that I have everything covered for the sale. I'm not only excited because I will be offering mini lessons on Zentangle® but because #1 son is coming along to help me out. He had a chance to go to the Badger game with his aunt and uncle or sit in the student section with his cousin but he chose to help me out instead. Here is another peek at items I will have for sale tomorrow.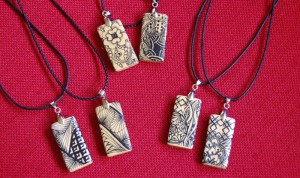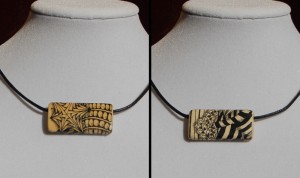 These are the limited edition necklaces that I have created. The necklaces next to each other are the two sides of the same necklaces. All of the vertical designs are also available in horizontal necklaces. The design that is shown horizontally is only available in the horizontal format. Each design is limited to 100 printings.
If you stop by tomorrow, be sure to say "hi".