Challenging Challenge #56
This week "the Diva" gave us the challenge to use our non-dominant hand to create a zentangle. Her name for the challenge is "Non Dominatrix* v.2" because it is the second time she has issued this challenge (the first being challenge #13). Since I am behind with the previous challenges, this was the first time I did this. Other than being a true challenge, I learned several things:
this forces me to slow WAY down,
my natural tendency for perfectionism caused me to "thicken" my lines to take out the wobbliness,
it is much easier drawing right to left since my left hand is my non-dominant hand (not the way I typically draw),
I rotate the tile much more (although I did not allow myself to actually move the tile to do the drawing),
I used much lighter pressure on the pen, but
I had a much tighter grip on the pen.
Here is my result…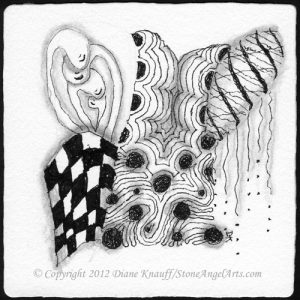 Patterns used: Mooka, Crescent Moon, Knightsbridge, Msst, Nipa and the pattern I drew first, based on a building in London known as "the Gherkin". I'm taking my boys to England over spring break so I have been spending a lot of time looking at all things London.