Oh the irony…
As you may have noticed, I haven't posted in quite awhile and I never wrote my thoughts about Chapter Twelve from the 12 Secrets of Highly Creative Women. The irony is that the main topic of the chapter, which is entitled "Planning to Achieve Your Goals", is about PROCRASTINATION! Obviously, I am quite skilled at procrastination considering I couldn't even make on last post to finish my blogging for The Next Chapter Book Club. It seems that since I became a mother, almost 13 years ago, I have perfected the art of procrastination – sleep always wins out over the non-essentials.
The chapter talked about setting creative goals and this has been one of my problems, actually it's "THE BIG ONE". I know that if I don't have a goal, I can't accomplish it (which is why it is so easy to procrastinate on housework – even if you do it diligently, you're just going to have to do it again). Trying to define a creative goal seems to go against my accountant sensibilities, which make me think that I need formal training and some official document (like a diploma or my CPA license) before I can call myself "a creative". Stupid, I know, but the mind works in mysterious (and sometimes stupid) ways. So I have been struggling for about two years with the idea of calling myself an artist. This has been a struggle much like some of my household procrastinations (some of which have driven my parents crazy).
This was particularly true when it came to painting our kitchen, which had been wallpapered with a fabulously "cute" wallpaper (think white with flowers and butterflies). I started stripping the wallpaper almost eight years ago. From a previous experience I found stripping wallpaper very therapeutic in dealing with death and my sister had died from gastro-esophogeal cancer one month after 9/11. When I started I didn't expect to drag the project out for 6+ years but maybe I just needed that much time to separate the death from the project.
My most recent procrastination (other than blogging) was to repaint my youngest son's room. It has been almost 13 years since I turned the room into my version of The Hundred Acre Wood from Winnie the Pooh. I told my son that this summer I would paint his room since he had been asking for over a year and he was going to be starting 3rd grade in the fall (admittedly a little old for Pooh and his friends). It was within 3 weeks of school starting before I could finally bring myself to put primer over the characters – after all, they were "born" before my actual first-born.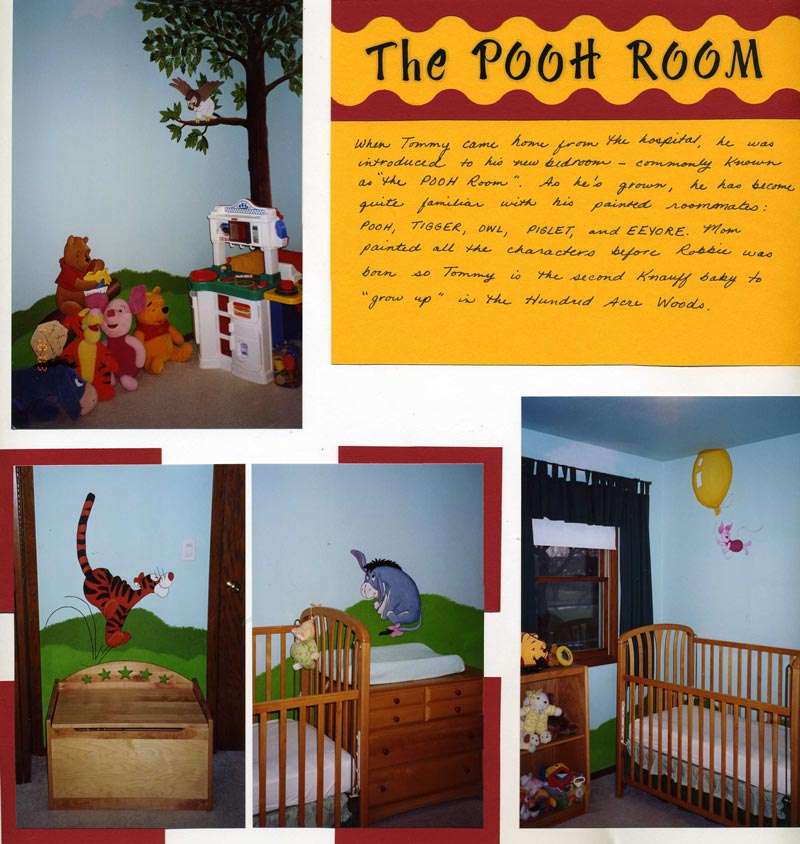 The sadness that I expected to feel was quickly overshadowed by a feeling of exhilaration that I always get from redecorating part of the house. Now that the room is done, I love its fresh look and I have a feeling that Mickey Mouse and the gang (who reside in my 7th grader's room) won't be around much longer, either.