COME ON IN...

The Chinese proverb about the red thread says you and I were destined to meet. So welcome to my cyber art gallery and studio. The gallery exhibits both current and past work in a variety of mediums and styles. The blog is the online portal to my studio, which considering my studio is in the basement, any opening into my studio is like a breath of fresh air. Since becoming a Certified Zentangle® Teacher, much of my current work is based on the Zentangle process.

MOST RECENT WORK

During the last few months of 2014, I have been exploring techniques that use the abundance of water soluble mediums in my studio. My primary focus has been to develop my skills using watercolor pencils. Inspired by the vibrant work of Dion Dior, I enrolled in her online class which focuses on this unique art material. "Berry Branch" is a piece of watercolor pencil artwork created on a recent visit to North Carolina.

ZENTANGLE

As many people can attest, life is a constant struggle to do all the things we want to do. When I first heard of Zentangle, learning more about it couldn't fit in my life. Then in late 2009, it found its way back into my life. I quickly became obsessed with learning more and after endless hours on the internet, I decided it would be best to take a class. Back then (in the old days) there were not a lot of options so I headed East to learn from the experts, Maria Thomas and Rick Roberts, the founders of Zentangle. Zentangle is now an integral part of my life, both as a teacher and one who enjoys all the benefits of a mindful and creative practice.

ZENTANGLE INSPIRED ART

Zentangle® Inspired Art combines the meditative pattern making of Zentangle with the many art mediums available today. "Watchful Eye" was created for the 2014 Madison Northside Artist Group exhibit "Raising Crane". The drawing combines ink, charcoal, and watercolor on handmade lokta paper.

COLLAGE

Collage is all about layers. Creating depth and texture is what originally drew me to collage but it was learning techniques to transfer images that fueled my passion. In my collage work, I strive to bring out the ethereal qualities of layered images and text while telling a story. "Bossa Nova" was created on a vinyl record as part of an art silent auction for a community radio station in Madison, WI.

ASSEMBLAGE

A side effect of collage is the urge to save all kinds of things that can be incorporated into art. And sometimes a vision takes hold in your mind that requires creating something beyond two dimensions. That is what happened to me after reading "Gentlemen and Players" by Joanne Harris. I read the book as part of an Artful Readers Club and the idea for this piece could not be ignored. This assemblage uses a cigar box as its base and incorporates my interpretation of themes from the book.

ARTISAN CRAFTED GOODS

Over the years my creativity has emerged in many ways. Along with my original artwork and prints, I have also crafted such things as fabric baskets (when I needed an extra boost of color), limited edition and one-of-a-kind hand drawn Zentangle inspired bamboo necklaces, and colorful hand decorated tea tins.
ALL THINGS ZENTANGLE®

Looking for general Zentangle information, my Zentangle Classes, and official Zentangle products that I sell? This is the place to find all that and more.
Learn More

»
WHAT STUDENTS ARE SAYING
"I'm leaving this class with a new art form that I feel I can really do! I love it." --Peggy, March 2012
"presentation and instructions were excellent!" --Joan, March 2012
"I'm an art quilter and know I'll use this process for getting the creative juices going. I will recommend this class to my friends" --Karen, March 2012
When I'm Teaching Next

»
SHOPPING OPTIONS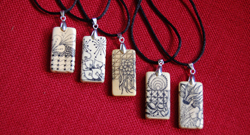 Zentangle Products are available for purchase through me. Please contact me for additional information.
Learn More

»