Secret #3 – Following your Fascinations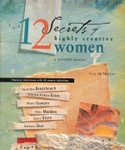 I'm back and writing once more about the book 12 Secrets of Highly Creative Women by Gail McMeekin and The Next Chapter Blogging Book Club. One of my favorite parts of secret #3 was the section about Barbara Sher. When I read her quote "The good life is when you get up in the morning and can't wait to start all over again", I got goosebumps. In that one line, I finally realized what I have been searching for since I became a stay-at-home mom. I need something in my life that makes me want to get up and do it all over again…and cooking, cleaning, shopping and laundry are not enough. In the past few years, I have been focusing on experimenting with various art techniques, trying to find one that I felt passionate about. I wrote about that a bit in my post about secret #2. I'm giving myself permission to continue playing and follow whatever my current fascination is at the time. There was a lot of discussion in the chapter regarding risk-taking. Because I've always been shy, it took me a long time to truly embrace life and take risks. I have always believed that the semester I spent studying in Europe was a defining moment in my life. It was there that I became confident in myself as a person. After graduating from college, that confidence served me well in my accounting career. Unfortunately, motherhood changed all that. Chapter three also referred to an inner patriarch that torments us with limiting rules. I think it is my inner patriarch that makes me feel as though the family and home responsibilities must be done to a "Donna Reed" level before my "frivolous creative yearnings" can be indulged. I have been trying to identify myself with one goal, one interest. I know now that I have to embrace the business person, the homemaker, the mother, and the artist. I can be all these things and it is okay. I'm going to join Jessie Marianiello's Be Brave Project and follow the words of Eleanor Roosevelt  to "do something everyday that scares you". As part of my mission to rediscover my adventurous side, I bought a new pair of shoes this week that expresses just that. But here is a picture so that you can be the judge.
My last words for today come from Eudora Welty…
All serious daring starts from within.