Secret #2 – Honoring your inspirations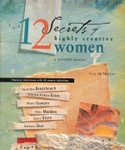 Well, I didn't quite get this post done before the group moved on to the next chapter. Yesterday was just a busy day and when it got to be last night, I just didn't have it in me to write about Chapter 2 of the 12 Secrets of Highly Creative Women. Secret number two about honoring your inspirations dealt with a topic that I seem to think about quite often – identifying those things that you love – those things that have been with you since you were young. As I have found my way back to creating art, I seem to continually ask myself what "my style" is and what kind of artwork do I like to do the best. A friend of mine used the phrase "jack of all trades, master of none" yesterday. I guess that has been the way I feel about my art. So when I read this chapter, I hoped to come away with a description of things that influence my art. Well, I can honestly say that it didn't happen but at least I spent some quality time with myself and got a little closer the answer.
I started by digging out a list that I had made about eight years ago when I was reading "Simple Abundance" by Sara Ban Breathnach. You were supposed to spend 10 minutes and create a list 50 things that you love. As I reread the list, I realized that several items influence my artwork. Some of these are:
reading
music
architecture
foreign countries (people, sites, sounds, smells and tastes)
history
color
nature
I plan to pay closer attention to the things that I' m drawn to so that I can further refine my inspirations and start seeking out opportunities to indulge my creative soul.
There were a couple of lines from the book that struck particularly strong emotions from me. The phrase "…it's not the `work', it's exploration and discovery" seemed to some up my view of creating. The end result is not the driving force behind my work. It is the creation process. There was also the discussion of needing the ritual of work and creating rituals that signal to you that it is time to create. This is something that I have been working on for the past year – dedicating time each day.  I am fortunate to have a wonderful studio in my house, where I can be alone with all my supplies and things that inspire me. But because I am a stay-at-home mom, I find it so hard to officially add studio time to my routine. Listening to the interview with Suzie Ridler, made me realize that part of my problem is still the stigma I associate with being a stay-at-home mom/housewife. Even though I left the workforce almost 15 years ago, I still have not let go of valuing my self-worth in terms of a salary. This chapter has made me realize that it is time that I became comfortable in my own skin!  Ahhh, self-confidence has never been one of my strengths.