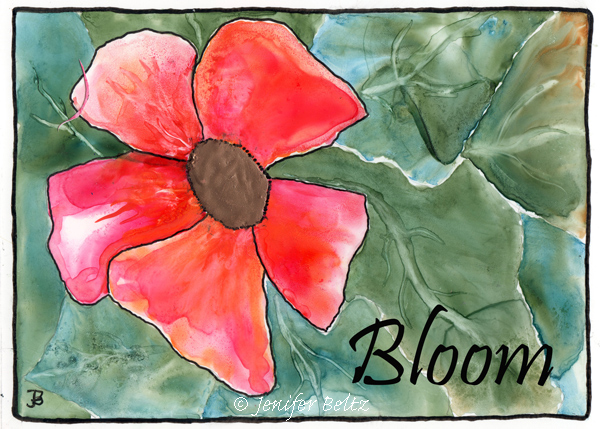 Time Warp Art Show
Time for catching up. At the beginning of the year when I started the 2015 CSA program, the plan was that each artist had their own week to show their work for each month and I would post it on the blog on Saturday. Well, if you have been following the blog posts, you have noticed that recently my well thought out plan is just not been happening. Hold on to your seat because this post is going to transport you from March to April in the time it takes you to read to the end.
Here is the fourth art piece for the month of March, a watercolor painting by Jenifer, and her thoughts on the piece.
Created as a practice of playing with color on Yupo paper, Bloom is an expression of allowing a process to unfold. Working with watercolor on Yupo paper requires a willingness to let go of perfection and control. Unlike cotton rag watercolor paper, where the pigment absorbs into the paper as the water on the surface evaporates, yupo is synthetic, therefore requires one to wait patiently while the pigment adheres to the paper only by the process of evaporation. A truly unique experience. As I watched the painting come to life slowly before my eyes, the only word that consistently came to mind was bloom. I believe we are all here to let go as much as possible and allow ourselves to do the same. In other words, to get out of our own way. As an artist who stuggles with this concept, it was a perfect meditation in the art of connecting to the endless possibilities that exist before us. And the perfection that lies within being perfectly imperfect.
So we are now crossing the time threshold between March and April. Last month, Jenifer's life prevented her from getting much time in her studio until late in March. This month it was my turn to have little time for art so Jenifer has graciously stepped up to share her April work early.
This coming week I will be posting my April contribution to the CSA. Theoretically, I should be able to get back on track after that. Before we end our time traveling adventure, I have a confession to make. In my post about Maggie's beautiful photo of a feather, I made an assumption about her art process and didn't check my facts (obviously I would make a terrible reporter but it does support the fact that you shouldn't believe everything you read on the internet). I have seen many photos that have a shallow depth of field, giving a soft background and foreground, but I had never seen one like the image of the feather. I found out several days ago that the photo effects that gave the image its painterly qualities was actually created by using an extension tube when the photo was taken. I've gone back to the original blog post and put this confession as an addendum. Hopefully, I have learned my lesson and in the future, will be sure to get a better understanding of the creative process that went into each art piece. It gives me an opportunity to learn new things and hopefully will do the same for you.