Perfect Autumn Days
This is my favorite time of the year and it has been perfect autumn weather in Madison lately. The temperatures have been in the upper 60s to lower 70s (I feel a bit like Goldilocks…not too cold and not too hot…it is just right). The leaves are changing and showing vibrant golds, oranges, and reds. Sunday was particularly wonderful. I went to campus to listen to speaker Sir Ken Robinson discuss Creativity, Truth and Beauty. He is an internationally-renowned expert in the field of creativity and innovation in business and education. His talk was exceptional and his personality broke all stereotypes of reserved Brits. Afterwards, my friend, Dayna and I went to the Chazen Museum of Art to see the exhibit of paintings and tapestries from the Uffizi Gallery in Florence, Italy. An unexpected outcome of that visit is the desire to learn more about art restoration. We finished up the afternoon sitting on the terrace at the Memorial Union enjoying Babcock Hall ice cream and the perfect weather of an autumn day, bright blue skies, sailboats on the lake and a dazzling display of color on the trees all around the lake.
In my last post, I promised to post the steps I used in creating two of the Zentangle patterns talked about in the post. Below are the steps for Fandance and Lealap. If you decide to use them, I would love to see pictures of your work. It is always fun to see other people's interpretations.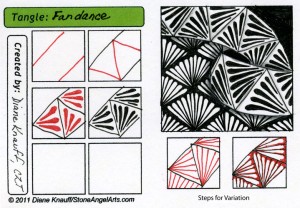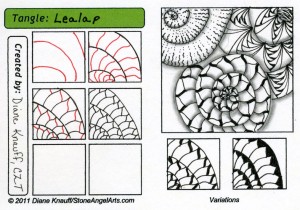 My inspiration for these patterns can be found here, here and here on my Pinterest Board "Zentangle Inspirations".