2013: Year of Books and Art
I love the start of a new year. I may not achieve all the things I hope to during the year but it is the potential for change that excites me. Two areas that I decided to focus on this year are books and art. Books have always been one of my family's greatest indulgences. I have been using the Good Reads website to track my reading for several years and this year I decided to join in their 2013 Reading Challenge. As much as I would love to read ALL the books I've collected over the years, I decided to set my goal at 25 books for the year.
I have had a great start to my reading due to some back problems that have limited my ability to do much else. One of the books I finished this week was "The Pulse of Mixed Media: Secrets and Passions of 100 Artists Revealed" by Seth Apter. One of the things that my art books like this have in common is the inclusion of not only the names of artists but their websites as well. Today, between loads of laundry, I have been checking out the various websites listed in the back of the book. When I visited the website of Bleubeard and Elizabeth, I saw her post about the Artful Readers Club. I was immediately intrigued and had to learn more. The Artful Readers Club, the brain child of Darcy Wilkinson, brings together reading and art by having each participant read one book each month and create a piece of art (of any kind) based on the book. Even though I am behind by two weeks, my discovery was too serendipitous not to join in. Below is a photo of the twelve books I've selected, piled high in my favorite reading chair, waiting for me to dig in. I haven't determined the order in which they will be read except for January and February.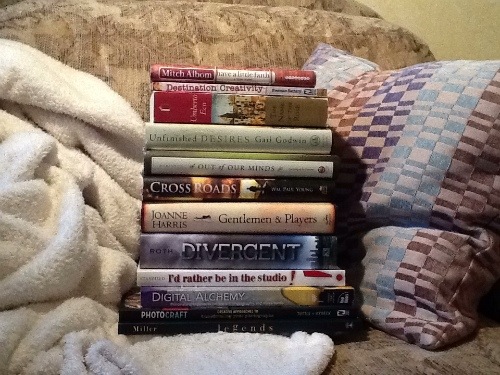 This book club is the perfect opportunity for me to get back into my studio and find a way to honor my mixed media roots with my more recent obsession with Zentangle. This is something that I've been needing to do and had determined that 2013 was going to be dedicated to finding a way to blend all my interests. Look for my first art piece and book review, based on Gentlemen and Players by Joanne Harris, on Friday, January 25th.