Sunning in Sanibel(le)
Beginning this week, the Diva, is introducing a new feature as part of her weekly challenges. The first Monday of each month, she will be doing a new Use My Tangle (UMT) challenge. This week is the inaugural week hence the challenge name "UMT v1". The challenge is to use the pattern Sanibelle which was created by Tricia Faraone. I love the look of this tangle and have wanted to explore it so I was excited to be "challenged" to do it. This tile was done earlier this week and I had wanted to do another but that never happened. Although a Zentangle® is not supposed to have a directional orientation, my tile definitely does in my eyes.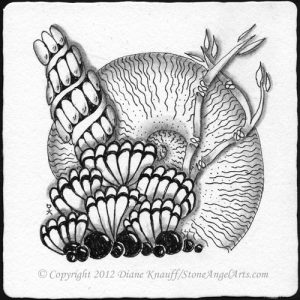 Patterns used: Purk, Msst, Pendrils, Sanibelle, and Black Pearls
When you see the steps for this tangle it appears to be quite simple to accomplish but I've come to realize that I have a much easier time with geometric tangles than more organic ones. To me, the flow of my organic tangles alway seems to be forced. I'm sure that part of it is my perception but I do think that people have a natural tendency to be drawn to one type of tangle or the other. A perfect example in my eyes are the founders of Zentangle, Maria Thomas and Rick Roberts. Maria is the one who tends to use very organic, flowing tangles whereas Rick tends to use more angular, geometric designs.
I think this is one of those areas that one just needs to practice in order to feel comfortable. I look forward to working with this tangle much more in the future. Thanks, Tricia, for sharing this wonderful tangle with us.