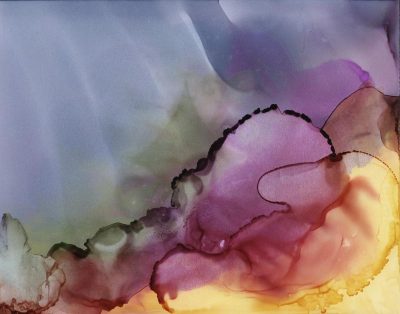 Spontaneity + Control = Alcohol Inks
I have found a new passion. Alcohol Inks! I will admit that this is not exactly a new passion but rather a new appreciation for an old friend. Late last year I discovered some artists that were taking these inks and creating paintings that range from abstract to representational. In the past, I had always used these inks to add color to non-porous surfaces like metal, plastic and glass but it was really limited to adding mottled colors with no control. My art cohort, Carmen, sent me a link for a class being held at the art retreat Art & Soul – Minneapolis. A class, "Creating with Alcohol Ink", is being taught by Cathy Taylor. I was so enthralled by Cathy's beautiful samples that even though it was 10:30pm I began a quest to find out more. By the time I went to sleep I had ordered Cathy's book "Pigments of Your Imagination".
As luck would have it, I also found an online class taught by Sheryl Williams that started last week. Over the next couple of weeks I will be sharing more of my explorations with this amazing art medium.
Even though it is already the middle of February, a new year also signals the start of my annual community supported art program. After receiving wonderful support for my own art practice and those of my dear friends, Carmen, Jenifer and Maggie last year, I have decided to encourage your support of other artists that inspire me. Each month during 2016 (although since I missed January there will be two this month), you will see a post that includes introductions (with links) to the work of other artists I have discovered around the world. I encourage you to check out these amazing artists and support them on their creative journeys. Your support can be as simple as following them on Facebook/Twitter/Instagram, contacting them through their website, buying a piece of their artwork or even just telling a friend about them. As an artist, I can tell you that knowing someone enjoys what you produce means a lot.
Since I have been in an "alcohol ink state of mind", here are some amazing artists that produce alcohol ink paintings that inspire me: