Obsessed with Mehndi
A few months ago I had a Border's coupon burning a hole in my pocket. I know I've mentioned in the past that I'm a bit of a book junkie (okay, that is probably an understatement). What I finally decided on was a book of mehndi designs. That was the beginning of my obsession with the designs, particularly those done on the hands. Since then I have been exploring ways to incorporate the design into my artwork. Here is my first interpretation.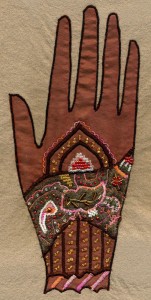 This hand incorporates needle felting with stitching and beading.
Between the holidays and some recent family circumstances, I haven't had nearly as much time to get in my studio as I would have liked. This should be able to change starting this week so I will be creating and sharing more of my mehndi interpretions.