The Next Chapter and Secret #1
Yesterday there was synchronicity working its magic in my life (and I love when that happens). I seem to be constantly looking for ways to keep myself on the creative path (it is more fun and easier with traveling companions). After I made my post for the GPP Crusade, I was visiting some of the blog posts by other "crusaders" when I followed a link to another blog, then another link, and another link until I found myself on Jamie Ridler's "The Next Chapter" blog, which is a blogging book group currently reading "The 12 Secrets of Highly Creative Women" by Gail McMeekin. Since I knew I had the book (having read bits and pieces in the past) and the group had just started the second chapter, I knew I was meant to join in.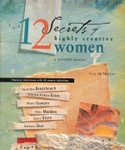 The first secret is acknowledging your creative self. I have always thought of myself as creative. Some of my first memories involve a box of 64 crayons and large cardboard boxes that were transformed into whatever my imagination envisioned. My creativity continued to thrive throughout my childhood, drawing "Winky" from magazine ads and attempting to write my own Nancy Drew mysteries. My right brain and left brain were equally stimulated through high school but when it came time to choose a career path, my mind quickly focused on pursuing a career in business. So followed my bachelor degrees in Accounting and Management Information Systems.
You always hear stories about parents who discouraged children from pursuing a career in the arts but my parents never made such comments to me. What I do remember was that my older sister began her college career as an art major only to switch two years later into occupational therapy because there was "a need" for people in the field. I also had an older brother in the accounting field, so maybe I thought wearing a business suit to work each day was appealing (boy, would that idea change). During that time, my creativity didn't go into hibernation but my recognition of my self as being creative certainly did. I would sew and decorate my apartments but I always looked upon those things as more domestic than creative. It wasn't until after my oldest son was born that I began to look for my creativity. I found myself suffering from post-partum depression (something I denied for a very long time) but found that I felt best when I was engaged in a creative activity. I began scrapbooking and it seemed the perfect outlet – creativity while capturing memories for my child. My need for creativity in my life became apparent when I had periods of time when I didn't make time for it. My depression always worsened during those times. The best times were when I was exploring new materials or techniques as I moved from scrapbooking to pursuing interests in a variety of mediums. I now call myself a mixed media artist…acknowledging my artist self but knowing that I will probably never be devoted to just one medium for artistic expression. 😉